Donna Gibbons – Case Coordinator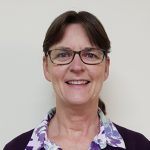 Donna grew up in North West Tasmania and has lived and worked as a Registered Nurse in Tasmania, NSW, WA, and England as well as living in Queensland for eight years.
She completed further study in Environmental/Public Health and recently completed a Graduate Certificate in Disability Practice.
Donna loves living with her husband and young adult children on three acres with chooks, ducks, quail, and sheep. Whilst pretending to be a farmer, she is happy to be within walking distance of Woollies! With a daughter living with autism, she understands that life certainly has ups and downs.