ACD Tas is currently seeking expressions of interest to fill vacant positions on our Board of Management.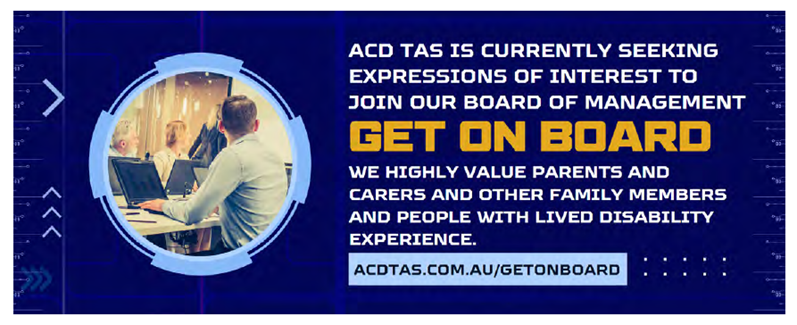 The Association for Children with Disability (Tas) Inc. is a Tasmanian Family Organisation. ACD Tas is a peer-led not-for-profit organisation that provides information, advocacy, consultation and training, case coordination and peer support.
ACD Tas has a nine member volunteer Board of Management and is currently seeking expressions of interest to fill vacant positions.
Our mission is to provide community leadership and quality support options that improve participation and life outcomes.
Our vision is that people with disability, their families and carers have equal opportunity to reach their potential and lead fulfilling lives.
The ACD Tas support model empowers families to achieve self-defined goals and overcome barriers to the pursuit of their personal life choices. This family-led approach is embedded in our constitution, governance and operational practice.
A majority of ACD Tas Board members and staff are parents or carers of children with disability. If you share our vision and want to be part of a dedicated and skilled team that is determined to progress the mission, strategies and goals of the Association, we invite you to express an interest in volunteering your time and expertise as a Board of Management member.
The Board of Management has designated that people with any of the following skill sets may apply:
Legal, Marketing, ICT, Business accounting, economics and/or finance.
disability sector experience
family members of people with disability
As a peer-led organisation, we highly value parents and carers and other family members and people with lived disability experience.
To receive more information about Board of Management expressions of interest please contact Caroline Pegg on 03 6231 2466 or cpegg@acdtas.com.au