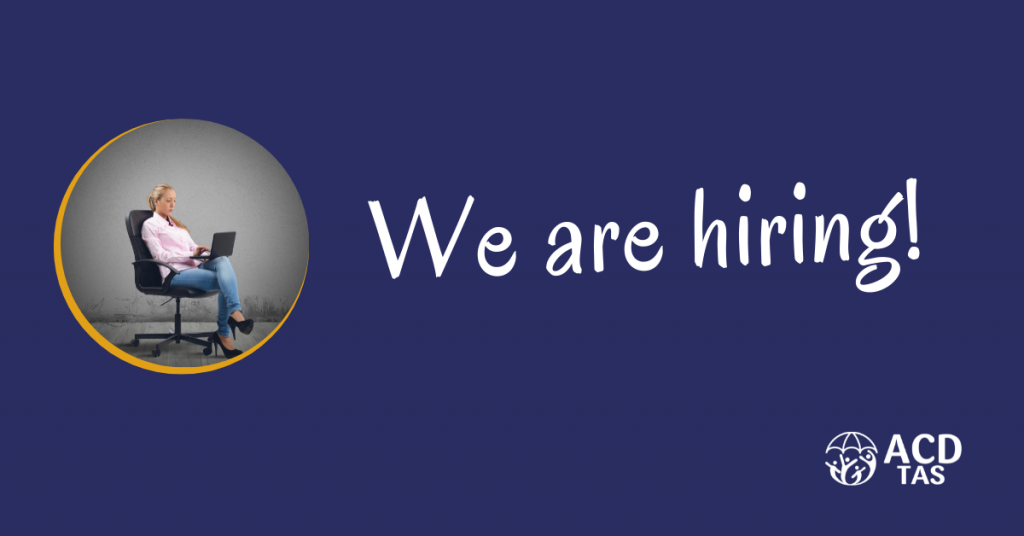 Work type: Casual
Location: Hobart CBD
Fixed Term, Casual position for 15 months 
Primarily based in Hobart, although may be required to travel intrastate
The position is an exciting opportunity to utilise and develop research skills
ACD Tas provides family support services to people with disability, their families, and carers. The Peer Network Hub is a free family assistance program that is run statewide. The Hub is a central place for Tasmanian families to gain and share needed information, resources, and skills and link with others to achieve a shared vision. We aim to connect family peers and empower people to improve outcomes for young people and children with disability. The Hub activities fall under three categories – self-advocacy assist, network assist, and peer leader assist. Families can access the Peer Network Hub by telephone, email, and in person.
The Opportunity
Join a team working to investigate and review the characteristic needs of parents/carers of children with a disability in relation to participation in both online and face-to-face forums, training and social programs. It also aims to determine the impact of ACD Tas's services on the health and wellbeing and social inclusion of children and their parents. This information is key to understanding and evidencing positive individual and community outcomes.
The Research Assistant will support activities including reviews of literature, undertaking interviews, transcription and data analysis, contribution to the writing of academic papers and progress reports. The research will be carried out in phase, the survey data and qualitative (interview) responses will be collected at intervals over the next 15 months, the work pattern will be variable based on these phases.
Key Accountabilities:
Bachelor's or master's degree in a relevant discipline
Contribute to the research project
Review relevant literature and undertake data analysis
Assist with the writing of high-quality academic papers and impact-focused work with external stakeholders
Provide general research administrative functions connected with the funded project
Your Application
To be successful in the role, your application will need to demonstrate;
Experience in research and undertaking a literature review
The ability to work effectively under limited supervision or independently.
Familiar with SPSS software to carry out an analysis.
Effective oral and written communication skills, including the ability to interact effectively with people from a diverse range of backgrounds.
Excellent skills in Microsoft Word, PowerPoint, and Excel, and in particular research data entry.

Remuneration
Appointment to this role will be at the Casual Research Assistant Level 1 plus 9.5% superannuation. (Currently, $47.50, and from 1 July 2021 – $48.45)
How to Apply:
To apply please provide your Resume and 1-2-page cover letter outlining your interest in the role, skills, capabilities and experience to admin@acdtas.com.au.
Applications close Friday 28 May 2021, 5:00 pm
To be eligible for this position, you are required to have Australian citizenship, permanent residence or a current valid visa that allows you to fulfill the requirements of this role.