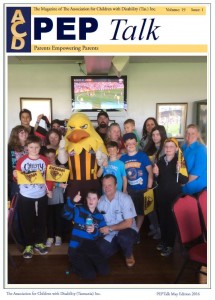 ACD produces a magazine, PEPTalk three times a year. The magazine provides members with information about ACD's work across the community and shares community news, information, events and initiatives, and stories written by people with disability, and their parents, carers and siblings. To become a member; supporting children with disabilities and receive your copy of PEPTalk please contact us
Many ACD Member Family Stories published in PEPTalk are transferred to the Finding Your Way website for safe keeping and sharing with a wider audience.
Freecall ACD on 1800 244 742 to find out more about Membership and to receive your copy of PEPTalk magazine.
2018
May
2017
December
September
May
2016
December
September
May
2015
December
September
May
2014
December